FamilyWize is now SingleCare!
Grove City Area United Way partners with SingleCare to provide access to affordable prescription medications in order to ensure greater health and financial stability to community members.
SingleCare offers the top 40 most purchased medications at $10.00 and under.
SingleCare has a free loyalty program that allows members to save even more on already discounted prices.  Members get an extra $5 in bonus savings just for signing up.
SingleCare offers a Spanish-language website:  es.singlecare.com
If you have FamilyWize cards, they will continue to work, so no need to throw them out.  New SingleCare cards will be available to the community in June.
Download the SingleCare Flyer which will explain in more detail the benefits of the SingleCare card.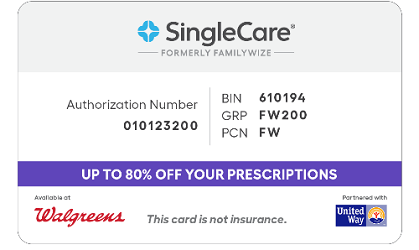 The SingleCare Prescription Savings Card:
• Always free to use by everyone—just show it to the pharmacist
• Save up to 80% on 10,000+ prescription medications
• Accepted at major pharmacy chains nationwide
• No registration or eligibility requirements. Use it right away!
• Sign up on SingleCare.com for additional member savings
• Works whether you're insured or underinsured
• Unlimited uses